The showrunners behind an honest, if uncomfortable, new series explain how they got four couples to allow cameras in the room with their therapist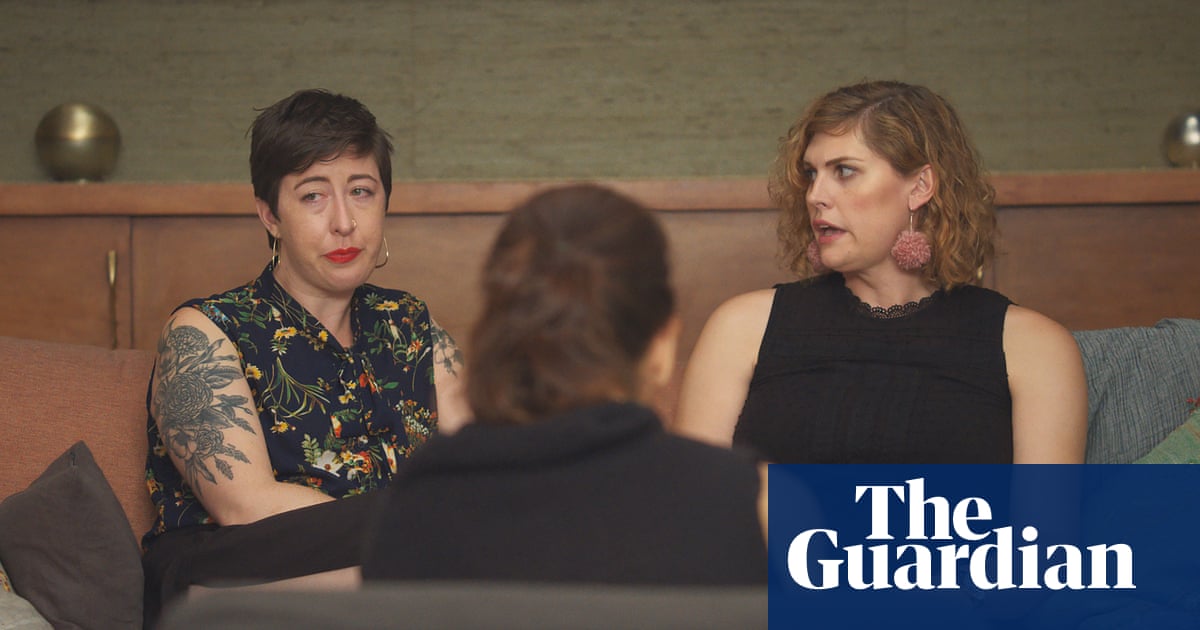 Before the closed glass door of a therapists office in New York, a series of couples brace themselves for a slog. One man fidgets with a 3D puzzle; a woman, eyes closed, grips the chair arms. In the chairs, facing a Rorschach-esque painting, the couples seem aware of, if not reacting to, a discreetly installed camera one womans attempt to tuck in her partners shirt tag, met with a shrug and rebuff, morphs into a shoulder rub. But the anticipation seems to cut through any self-consciousness, landing back on the two people their unit, about to be picked as if an archaeology dig. One couple sits down, sighs, and looks at each other, as if to say: are you ready?
Showtimes new series Couples Therapy is, like a good apology, exactly as advertised: a peek into the process of couples therapy, a seat in the room as they unpack years of coiled narratives and resentments to find common ground. The footage is intensely personal, at times searingly intimate, and cumulative show-runners Josh Kriegman, Elyse Steinberg, and Eli Despres filmed four couples over 20 weeks of one-hour therapy sessions, then edited down and stitched together each couples journey into nine half-hour episodes. Other than brief transition montages or characterizing shots couple pouring coffee in their home, couple riding in the back of a car thats it: the couples and the therapist, outfits changing with the week, getting to know each other and themselves.
A decently clear picture or, at least, the small-talk version of why each pair no longer sees eye-to-eye emerges by the end of the first episode. Theres Evelyn and Alan, a young couple whose mutual lack of trust perches them on separate ends of the couch and the brink of separation; Lauren and Sarah, a queer and trans couple whose spark dampens under the weight (or lack thereof) of potential children; DeSean and Elaine, a union of reserve and fire he calmed my noise, and I woke him up, Elaine says now speaking in mutual spite; and Annie and Mau, whose bickering over a birthday plan gone awry suggests a personal history of defensiveness and desire much more complicated than either let on.
The subsequent episodes, four of which were available for review, richly fill in or interrogate and flip those narratives as the therapist, Dr Orna Guralnik, masterfully steers part-conversation, part investigation into the many strands of personality, miscommunication, sex, money, power and mistrust (to name a few things) that pull a couple apart. This raw, potentially instructive honesty builds on years of popular media seeking to pull back the curtain on romantic coupledom: theres the viral Ted Talk by therapist and media figure Esther Perel, Rethinking Infidelity, viewed nearly 14m times, and advice podcasts such as the Dan Savage Lovecast or Cheryl Strayed and Steve Almonds Dear Sugar. Perel has her own podcast, Where Should We Begin?, launched two years ago, in which audiences listen in on capsule episodes of single therapy sessions with real couples.
Original Article : HERE ; The Ultimate Survival Food: The Lost Ways
Recommended articles:
-->
Model Train Layout Ideas, Tips & Answers
-->
ChromEngage
-->
Sistema Descubre Tu Poder Invisible
-->
The Complete Empath Toolkit: New Age Ebook & Audio Seminar Package