The Caribbean used to be known for its tropical paradises — now it's increasingly becoming feared for its terrifying pitfalls!
In recent weeks we've learned of
Now, on the heels of that ongoing scandal, Costa Rica has had a health crisis of its own; at least 19 people have died in the Latin American nation SINCE JUNE.
WTF??
The Costa Rica Ministry of Health issued a national alert informing the public of the deaths of fourteen men and five women — ages 32 to 72.
Unlike the Dominican Republic mystery, the Costa Rican government already has a cause they're willing to share with the world: poison alcohol.
Specifically, the problem is alcoholic drinks tainted with methanol.
Alcoholic drinks contain ethanol, or ethyl alcohol, which can be toxic in high enough doses of course, but at the amounts people typically consume it reduces anxiety, produces a euphoric feeling, and causes you to call ex-boyfriends.
Different kind of toxic…
However, a number of alcohol brands in the country have been determined to contain dangerous amounts methanol, methyl alcohol. This is not for consumption but rather industrial uses like antifreeze, varnish, and model airplane fuel.
According to the World Health Organization, those who consume methanol often don't notice the effects at first, as they appear similar to the mild inebriation of alcoholic drinks, causing one to become "drowsy, unsteady and disinhibited."
However, it soon becomes something far more dangerous:
"After a variable period of time victims start to develop headache, vomiting, abdominal pain and vertigo. They may start to hyperventilate and feel breathless. Vision is often affected, with blindness in severe cases. Coma, convulsions, and death from respiratory arrest may ensue."
Eesh!
So wait, how is methanol getting into liquor anyway??
Apparently over the past few years there have been a number of outbreaks of methanol poisoning due to unregulated knockoff alcohol brands trying to make a quick buck by adding cheaper methanol to mimic the effects of real liquor.
The Costa Rican government has recalled over 30,000 bottles from shelves, noting the brands Guaro Montano, Guaro Gran Apache, Estrella Aguardiente, Aguardiente Barón Rojo, Aguardiente Timbuka, and Molotov Aguardiente in particular.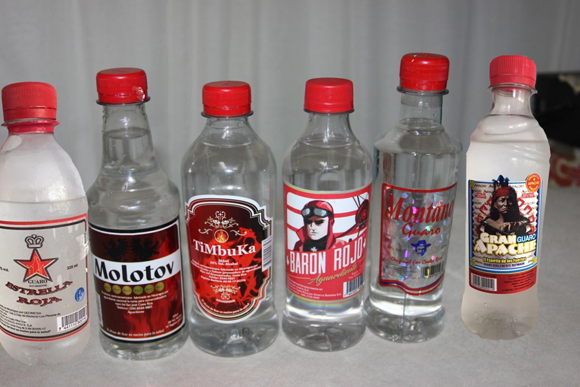 So here's the obvious question:
Could this also be what is happening in the Dominican Republic?
Early on, bootleg alcohol was suggested as a possible cause for the deaths of several tourists.
It does make sense, considering many of them were seen drinking from the minibar in their room before falling ill. And according to forensic experts, the public details of the symptoms in the DR are fairly consistent with methanol poisoning.
In fact, it was reported in June the FBI are investigating this as a lead.
However, we still don't know enough — largely because the government of the DR is being far less cooperative, still insisting the deaths are somehow all just a sad coincidence.
Frankly we'd feel safer traveling to a country identifying the problem and working to solve it than one in denial.
What do YOU think, Perezcious vacationers??
[Image via Costa Rica Ministry of Health/WENN.]
Related Posts
CLICK CLICK CLICK Next Article
Original Article : HERE ; The Ultimate Survival Food: The Lost Ways
The best offers on the market today:
Alto Ataques De Panico Y Ansiedad
Ben Pakulksi's Mi40 - The Next Big Thing On CB!
Vioniko Plataforma De Marketing Colaborativo | 75% Comisiones
Pearly Penile Papules Removal - Brand New Market ~ Hot