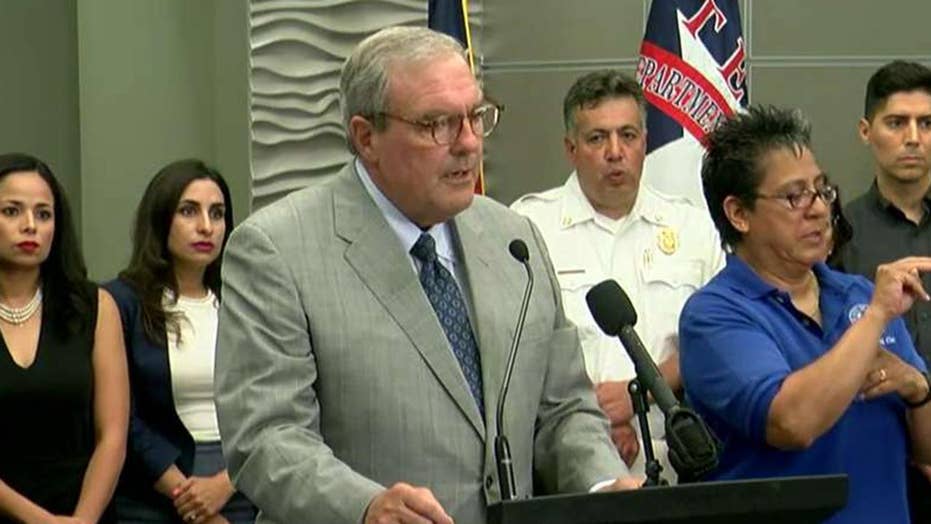 Greg Zanis prepares crosses to place at a makeshift memorial for victims of a mass shooting at a shopping complex Monday in El Paso, Texas. (AP Photo/John Locher)
"He has told the country that we are people to be feared, people to be hated," Escobar continued. "From my perspective, he is not welcome here. He should not come here while we are in mourning."
And Democratic presidential candidate Tim Ryan, D-Ohio, urged Margo in a televised interview to "quietly" tell Trump that he is not "welcome" in the city, because of his rhetoric on immigration.
Ryan has escalated his language in the last 24 hours, as he struggles to raise his political profile. He tweeted "Fck me" after Trump mistakenly, at one point in his speech, said the Ohio shooting took place in Toledo and not Dayton.
For Ryan, the language appeared to be part of a deliberate approach: Earlier Monday, the longshot candidate went on CNN and tore into Senate Majority Leader Mitch McConnell, saying, "Mitch McConnell needs to get off his a– and do something." On Sunday, he tweeted: "Republicans need to get their s— together and stop pandering to the NRA. Period."
2020 DEMS UNLEASH PROFANE ATTACKS ON TRUMP, REPUBLICANS OVER MASS SHOOTINGS
President Trump, for his part, on Monday called for reforms at the intersection of mental health and gun laws — including so-called "red flag laws" to take guns from those deemed a public risk — in the wake of the back-to-back mass shootings over the weekend, which left at least 31 people dead in total
In unequivocal terms, the president also condemned white supremacy, responding to reports that the shooter in El Paso wrote a racist manifesto ahead of the violence.
Afterward, McConnell – a Republican who has been lambasted by Democrats for refusing to allow votes on gun control legislation – said Monday he is willing to consider "bipartisan" solutions in the wake of the mass shootings, though he emphasized that he opposes gun control policies that infringe "on Americans' constitutional rights."
The political fight over Trump's visit came amid a series of rapid-fire developments in the investigations in both El Paso and Dayton. Crusius was booked on capital murder charges, and authorities said Sunday that he is under investigation for alleged domestic terrorism. Officials were also looking into whether hate crime charges are appropriate.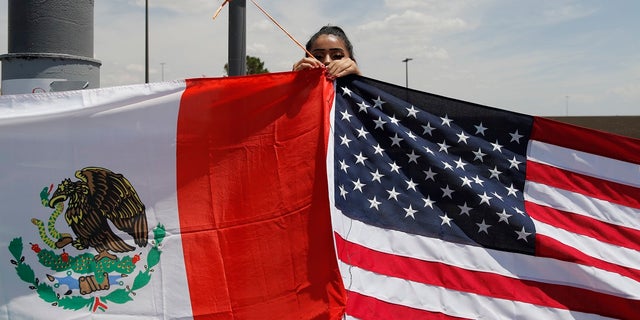 El Paso District Attorney Jaime Esparza said his office will seek the death penalty against the suspect.
"The loss of life is so great, we certainly have never seen this in our community. We are a very safe community," he told reporters at a news conference on Sunday. "We pride ourselves on the fact that we're so safe, and certainly this community is rocked, shocked and saddened by what has happened here yesterday."
DEMS DEMAND RECALL OF CONGRESS TO ADDRESS GUN VIOLENCE
El Paso Police Chief Greg Allen said Monday that the gunman got lost in a neighborhood before ending up at Walmart "because, we understand, he was hungry." Allen didn't elaborate. Crusius' hometown is the affluent Dallas suburb of Allen.
The police chief said the gun used in the shooting was legally purchased near the suspect's hometown.
In his application for a public defender on Monday, Crusius said he has been unemployed for five months, and has no income, assets or expenses. He claimed he has been living with his grandparents.
Meanwhile, authorities revealed that the gunman in Ohio rampage, 24-year-old Connor Betts, opened fire outside a bar around 1 a.m. Sunday, killing his adult sister and eight others. Police say he was fatally shot by officers within 30 seconds, and was wearing a mask, bulletproof vest, earplugs and had at least 100 rounds.
Authorities provided a dramatic video of officers rushing onto the scene and taking Betts out before he could enter another packed bar.
Original Article : HERE ; The Ultimate Survival Food: The Lost Ways
The best offers on the market today:
Become A Successful Freelance Writer And Make Money Working From Home
Aumenta La Inteligencia De Tu Hijo Con La Estimulacion Temprana
Sáltate El Desayuno
The Ultimate Kettlebell PLR Bundle